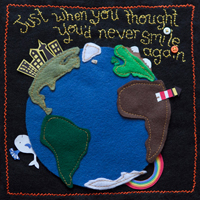 Our third album "Just When You Thought You'd Never Smile Again" is the product of the last 5 years of steady work. Well maybe not steady work. We did take a couple breaks. Well maybe more than a couple breaks, let's try this again.
After the release of our last album "The Burden of a Healthy Mind", the one complaint we heard over and over was that the album wasn't happy enough. So, we decided to overcompensate with this album. We soon realized that it is really hard for us to write positive lyrics, it must be a New Jersey thing. Instead we opted for an album full of "happy" sounding songs with cynical lyrics, sad songs about heartbreak, failure, and happiness that is just out of reach, and of course the occasional politically motivated song. That may have been a run-on sentence. Speaking of politically motivated songs… Our song "No Guarantee" won an award before the album was released. We won song of the month of August 2012 in the MSI:Hitlist song contest.
Not only did we try something new with the feel and words on this album, we also tried a couple different styles of soul music. Tracks like "Let Me Go" and "Think About It" have an organic 60's/70's feel with era specific instrumentation. While tracks like "Divide You", "Where You Belong", and "Thought I'd Never Find" use samples, autotune, and synths. You might even recognize one of the songs on the album already. It's a cover of Bob Dylan's "Just Like A Woman"… Sorry to drop names, but I had to say something about it.
Do you still want to know more? Okay, here's some more…
The album art was handmade by Suzanne Peck (J Peck's wife) with a little help from J Peck, Paul Bosco and Amber Corson. We decided to make the art by hand, because no one does that anymore. Yeah we could have used Photoshop, but what fun is that. It's much more fun to cut felt and construction paper, sew and glue it together, and make something you can hold in your hands. That being said, we'll probably use Photoshop for the next album… it's too hard to handmake album art.
That's It! I can't think of anything else. If you want to know more about the album the only thing to do is listen to it and let the music speak for itself.